JEE Main 2014: Roadside Food Server's daughter shocks Chennai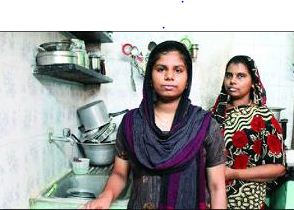 CHENNAI: He was serving idli and dosa to his roadside customers in Saidapet on Thursday morning when Shahul Hameed's daughter called up to give him the hot news- She had cleared the JEE Main 2014. 
Shahul Hameed, 45, rushed home to be with her for 10 minutes and got back to work happier, serving food and washing dishes for a pushcart food vendor. That late night he returned home a man both joyous and concerned. Joyous because his 17-year-old daughter Fathima Shadana had attained something so great as clearing  JEE Main, that he is yet to realise; and concerned about how the family can afford her higher studies, if she clears the Advanced exam, or even if she settles for a IIIT or NIT college .
Hameed, who works from 5am to 10pm to earn Rs. 300 a day, leaves the talking to his wife Bahira Begum who says, "I am happy but sending her for an engineering course is beyond our financial limit." Hameed's wife cleans vessels in a 250 sqft house of three small rooms in Saidapet. Her daughter Fathima is worried as well, but says her priority now is to clear the IIT-JEE (Advanced) on 25th May 2014. She is grateful to a training centre that offered to take under its wings some bright students of corporation schools as a social initiative. Fathima, that time a Class 9 student from Saidapet, of Chennai Girls' Higher Secondary School, was among the eight girls selected for FIIT-JEE coaching.
According to Bahira, "We were hesitant to send her for coaching because we knew it meant expenditure later. But her headmaster S. K. Balasubramaniam came home and convinced us both." The happy girl, Fathima also tells that she never dreamed of getting trained in a private institute. Even then, this opportunity didn't stop her from working hard. An ideal day in Fathima's life would start with books at 6 am before going to school, and after school, she would go to Nungambakkam for coaching and return bome by 6p in the evening. After an hour, again she would be back to books for better. But the rigour till midnight wasn't uninterrupted, as she would have to help her mother with the chores in the kitchen too.
After this happy occasion of conquering JEE Main entrance exam 2014, there is just one common prayer in the family: Bahira says they just want God to give them enough resources so that they can send Fathima for higher studies in a reputed engineering college, Bahira said that she and her husband are school dropout, as she added, "Nothing is more precious for us than our children living their dreams."
Apart from Fathima, two other girls from corporation schools in Chennai— Pavithra L and Shyamala B —also have cleared JEE Main. They both wish to pursue chemical engineering at an IIT.
How does this post make you feel?