IIT-Madras Students Set to Participate in Autonomous Underwater Vehicle System International in San Diego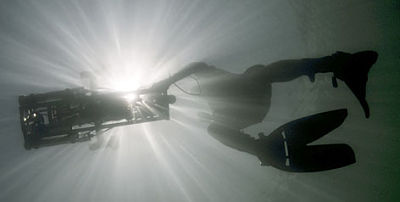 Nine students from IIT-Madras have recently collaborated for a project to build an autonomous underwater vehicle, which will capture underwater images, process them, and also respond autonomously.
"All countries — the U.S., the U.K., China and others have autonomous underwater vehicles in operation. India too needs to develop this technology indigenously and in an inexpensive manner," said Ravikiran, one of the team members.
He also states that most such robots available today in India do not meet international standards.
This nine member team includes—Vineeth, Ravikiran, Rakesh, Kishore, Sanchit, Ravitej, Ramnaresh, Prashant, and Abhinav.
The idea of the project was first generated when they decided to participate in the Robocon contest. The fared well in competitions held in India.
With their indigenous success, they are now determined to participate in Autonomous Underwater Vehicle System International in San Diego. This 9 member team has already found success in competitions like—the national competition held by National Institute of Ocean Technology, Chennai; the Student Design Competition conducted by National Design and Research Forum, and National Fair of India Innovation Challenge.
This post was published by Aditya Singhal, co-founder of askIITians.
How does this post make you feel?