CBSE Released Admit Cards for Classes 10 and 12
The Central Board of Secondary Education Annual Examination is a milestone for every student. CBSE has already released the date sheet of annual board examination for classes 10 and 12. For class 10, the board exams will commence from February 26, 2020, and the for class 12, the board exams will commence from February 27, 2020. We are sure you might be studying day and night to score the best marks in the board exams.
Now, it is time to take a step further towards your annual examination as CBSE has released the HALL TICKETS or ADMIT CARDS for classes 10 and 12. So now all the students who are preparing to appear in the board exams in 2020 can download and find out their HALL TICKET NUMBER and the EXAMINATION CENTER.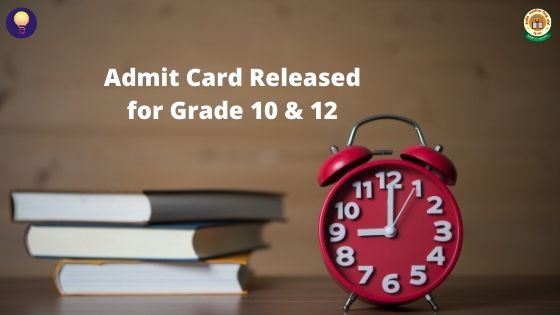 Where to find CBSE Admit Card online? 
Students of classes 10 and 12 can easily download the Admit Card from the official website of CBSE which is 'cbse.nic.in'. So, you all can download your hall ticket and take a print out of the same. You must know that without the admit card you will not be allowed to sit in the examination. So, you must keep it with you while you enter the examination hall. 
The 75% Attendance Criteria 
All the students might already be aware of the rule of 75% attendance in class. If you are unable to maintain 75% attendance in school, you are not allowed to appear in the board examination. Hence, your admit card would not be generated. However, if you are able to justify your short of attendance to the school and hence to the CBSE, you might get a chance to appear in the annual exams. So get your attendance issues clarified if any. 
How to download CBSE Admit Card? 
It is super-easy to download the admit card from the CBSE website. Just follow the steps given below:Â 
Open 'cbse.nic.in' in your browser and click for CBSE website 

Scroll down the home page and go to the section named 'In-Focus'.

Look for 'ADMIT CARD AND SCHOOL LOC FOR BOARD EXAMINATION 2020'. Click the link and you will be directed to a new page. 

Now enter your User ID and Password. The instruction for entering this information is given on the page itself. 

Click Login and your admit card will show up on the screen. 

Download the admit card and take a print out of the same. 
You will find your detail on the admit card such as your name, academic year, hall ticket number, photograph, signature, thumb impression, examination center, examination center code, date of birth, father's name, mother's name, and details about your exam day, date, subjects, etc. 
If you find any of the information given on your admit card as incorrect or missing, immediately contact your school.
The CBSE Exam Locator Mobile Application 
Do you know that CBSE has launched a mobile app that can help you locate your examination center? If you have no idea about it, just download CBSE EXAM LOCATOR App and you can easily find the geo-location of your examination center. You will also find images of the exam center and route map that will help you reach your center easily.  You need your Hall Ticket Number to find out about your examination center. You also need to register on the application with your Mobile Number. 
Board Exams Are At The Corner – Make Everyday Count 
As the board exam dates are approaching, it is OKAY to get all anxious. But once you notice all the anxiousness stressing you out, take a deep breath and follow these super-easy tips to ace your board exams:
Study as per a schedule so that you prepare every subject equally well. 

Do not let doubts pile up. Consult your tutors, teachers, friends asap! 

Make sure you have downloaded and printed the Date Sheet and Admit Card for the board examination. 

Do not spend all the time on planning, start revising. 

Make sure you are solving previous year question papers of CBSE for every subject. 

Do not panic. Talk to your family and teachers for some motivation.  
How does this post make you feel?