ALL the Best to ALL JEE-Advanced 2014 Candidates!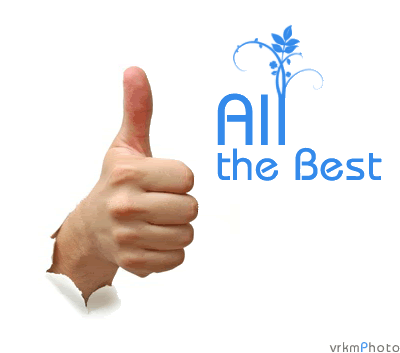 After successfully clearing the JEE-Main 2014 examination, one more milestone awaits you in your way of unparalleled glory. JEE-Advanced 2014 is just a few days away from the realization of the dream you have woven at every step of your academic career. The judgment day has finally arrived and it's looking right into your eyes for a mouthful of blissful inspiration.
There is no doubt that your life will change after the examination, not much will stay the same. However, the positive change only depends on you, in your faith, and, obviously, your determination. A growth in your career and other achievements will bear the reflection of your positive attitude, while bad things will always be remnants of your negative outlook towards a particular situation. Remember, it is your connection to your inner energy and force that will take you a long way irrespective of your performance in the examination.
This is the time to restore faith in you and absorb the energy to never get swayed by any sort of criticism.
So Candidates Don't Fret! It is your Turn to Make the Country Proud Now or One Day!
Eat Healthy and Let the Big Day Come .
Key to success in any examination of your life including JEE-Advanced 2014 is your faith in you. Don't lose it at any cost.
The famous American playwright Channing Pollock had once said, "The only good luck many great men ever had was being born with the ability and determination to overcome bad luck."
The team of askIITians wishes all JEE-Advanced 2014 aspirants all the best for the exam. Keep your spirits high and you will surely come out with flying colors!!
Find Here JEE-Advanced 2014 Solutions 
How does this post make you feel?