What are the most advanced ways for students to make money online?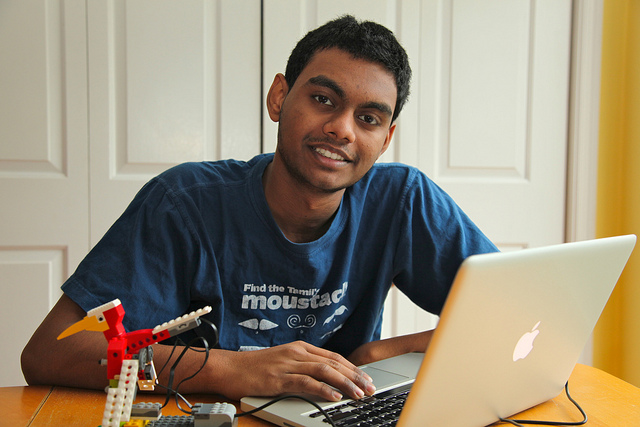 Online or offline, there is only one way to make money. Do what you are good at…and keep doing it again and again. Going online doesn't mean that you don't need to work hard anymore. However, you can look at the options that can earn you more for the amount of time and efforts you make.
According to me, here are some of the best ways to make money online in 2016:
1. Sell your Notes and Assignments or Become an Online Tutor at Transtutors
If you are a college student (management or engineering streams), you can upload your assignments, exam question papers, homework questions and notes at Transtutors and make money. It is as easy as that. Questions have to be of college-level and should be different from what has already been uploaded on the website. Minimum payout is $10 – which can easily be managed. You can easily make up to Rs 5,000 to Rs 15,000 in a semester.
You can also upload your notes here – and if you are good and creative, other college students might want to buy it. Each time your notebook gets sold, you will earn Royalty on it.
College graduates and those with two years of professional experience in a subject or more can become online tutors on the website too. Just take a subject test to prove your credentials and you can get started.
Help the students with their homework, assignments and queries and earn money for it. If a student buys subscriptions to the website after reading your answer, you get Royalty too.
I make handsome amount of money every month just by answering questions at Transtutors. Here's my dashboard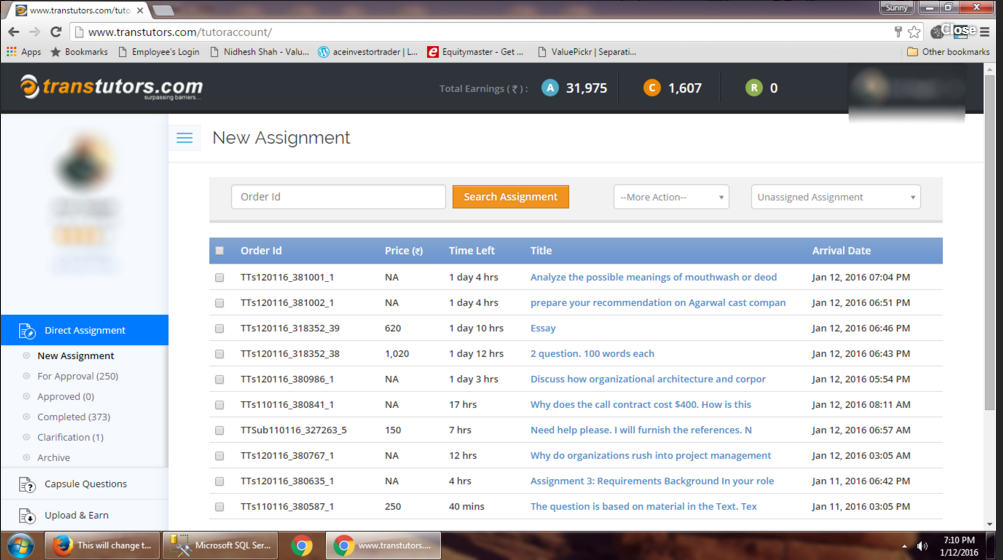 2. Become an Online Language Tutor on Preply
If you're fluent in English and communication is one of your strong suits, you can become an online English tutor on Preply and make up to $20/hr.
Preply is an online platform that helps connects students & tutors from across the world. The website offers a wide variety of languages and subjects that one can teach to thousands students from different parts of the globe.
If you're not comfortable teaching English, fret not. Preply also offers tutors for Indian languages as well as subjects like Accounting, Art & Music.
3. YouTube Channel and Patience
Like Blogging, YouTube channels take time to pick up but once they do, you can expect to earn around $5 for every 1,000 views in India. The money comes from the 30-second ads that precede your videos.
If a video doesn't work at first, learn from your mistakes and try again. Post at least one video in 15 days on a regular basis.
5 amazing tips to attract viewers to your YouTube videos.
4. Blog to Earn
Everyone has a blog these days but not everybody is able to make money through it. Patience, back-breaking research work, and money making strategies are the ingredients that make blog a success.
Let's have a look at some of the most popular blogs today and how they make money:
source: Income Diary – Top Earning Blogs
Some of the top ways to make money through a blog are:
Advertisements – Displaying ads alongside your post is a good option to make money.
Affiliate Marketing – Amazon, Ebay and other such Affiliate Marketing options can earn you thousands of dollars every week. All you have to do is market their products in a way that your readers find your recommendations really useful.
Sponsored Posts – Companies look out for popular blogs in their niches and offer money to be able to post on it. These Sponsored Posts are generally product or niche specific.
Sell Your Own Products or Services – There is nothing like a popular blog with an actual business as its backbone. It means you have complete control over your business sales and marketing and earn profits. If you are not selling products, you can perhaps sell services such as – consultancy, seminars, conferences, trainings etc. – related to the topic you are expert in. 
Obviously, success in making money through blogging depends on one thing – traffic. Here are some tried-and-tested methods to generate traffic:
Post Links to Your Blog on Social Media Channels and Niche Forums:
Facebook Groups, LinkedIn Groups, Google Plus Communities as well as niche websites and forums are a good way to promote your articles. I get thousands of visitors per week just by dropping links at the right places – where your article is actually valued.
Write Quality Content:
If you are thinking about writing an article less than 2,000 words, you may as well don't bother about writing it at all. Here is a research by serpIQ on the number of words that articles appearing on the first search result page of Google have: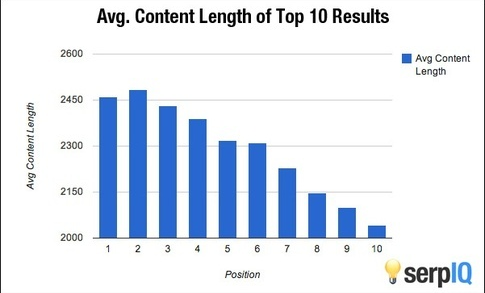 As you can see, most of them are about 2,300 to 2,500 words long.
As you can see in the above chart, all the results on the first page of Google have more than 2,000 words in their articles.
5. Sell a Physical Product Online on Amazon or eBay
These days buying things in bulk is easy. Just check out Alibaba.com, Made-in-China.com or TradeIndia.com. Choose a product that you think can sell well. Buy it in bulk and then sell it in retail on popular websites like Amazon, eBay, Snapdeal, and Flipkart.
You have to be 18 years old (0r you can trade in the name of your father) and will probably need a TIN no. too. However, storing products, selling them and shipping them off is not everyone's cup of tea.
6. Write for Instant Cash with iWriter.com
Many of my writer friends who at home now for one reason or the other are now writing for other bloggers or website owners through iWriter.com. You just need a Paypal account to get started.
You can make about 25 to 35k (or more depending on your skills) with this method. 
7. Propose $5 Gigs at Fiverr
People come up with some seriously creative gigs at Fiverr. While some offer standard services like editing, website designing, dietician advice, beauty tips etc., there are those who offer to talk to you to sleep, cast spells for you or pass on your birthday wishes while wearing weird costumes or singing in a river – all for $5.
Come up with your own gigs and you are good to go.
8. Rent out that Extra Room at Airbnb
If you have an extra room or apartment in a central location, rent it out. Airbnb is for travelers who are looking for a play to stay that is cheaper than a hotel but it offers you money that is definitely more than the standard rent you get. So, if your roommate has gone home for 10 days, you know how you can earn some extra bucks.
9. Earn 10 to 13k per month by working 1 to 2 hours a day with Leapforce
A US-based company called Leapforce offers $7 per hour to Indians who work on jobs like reviewing Search Engine Results or rating Social Media Ads. You have to be a graduate and clear a qualification test for each project you are applying for.
There is a limitation that you can only work for one hour a day on each project you apply for. The other downsides are that the study materials are lengthy and tests are a bit tough – which stretches up your work time considerably.
If all else fails, type 'work from home', 'freelance jobs' etc. on Naukri.com and other job search websites and you are sure to find some opportunity that suits you.
Happy Earning!
How does this post make you feel?