2 Best Yoga Exercises for Students to Beat the Stress Black and Blue
Feeling stressed this CBSE exam season?
With just a few days to go for the big day, students appearing for the CBSE exam have their anxiety level already shooting up off the charts. Needless to say, both anxiety and stress play a spoilsport in their preparation and also ruin their ability to memorize and concentrate study materials effectively. However, there's a sound way forward for students to just beat this stress with Yoga and emerge as winners.
We already know about health benefits of Yoga but what we really don't know is its key role in keeping anxiety level in humans at bay. It also increases blood circulation to the brain, which helps students attain a level of concentration. It boosts memory and cures memory lapses during exams.
So for students who constantly complain of memory lapses and lack of concentration during exams, we have listed a few simple Yoga exercises to help them beat the stress black and blue.
 1.  Sarvangasan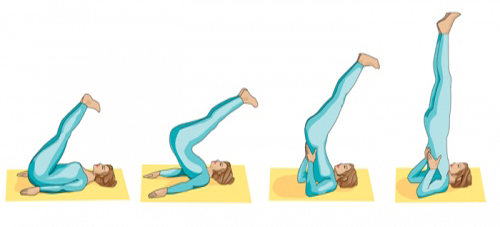 This Yoga exercise or Asana boosts fresh oxygenated blood circulation to the brain, which increases memory power in one.
How to Perform Sarvangasan:
Step 1.        You must lie flat on your back. This position is called Shiva-Asana. Keep your palms face down on the floor.
Step 2.        Inhale deep through your nostrils and, without lifting your hips, bring your knees toward your stomach while you exhale.
Step 3.        Inhale again; lift your torso up from the waist with the help of your palms until the spine arches backwards and hands are straight. Don't lift your hips.
Step 4.        Raise your legs up perpendicular to the floor while your exhale. Give your hips support with your hands if need be or else let them lie straight on the floor.
Step 5.        Don't bend your knees and keep your toes straight. Don't move your head. Your chin should touch your chest.
Step 6.        Breathe in this posture for some time.
Caution:
Don't perform this exercise if suffering from neck or back pain.
  2.  Bhujangasana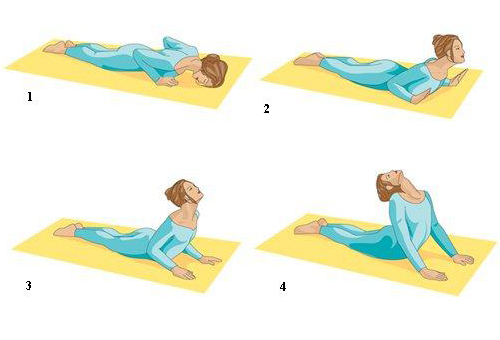 Bhujangasana is a refreshing exercise that also boosts one's memory power effectively. It cures stomach problems, backache, ciatica pain, slip disc, cervical spondylitis among other back related problems.
How to Perform Bhujangasana:
Step 1.        Lie flat on your belly with your head resting on your lower arms.
Step 2.        Look above your head and stretch your hands backwards.
Step 3.        Pull yours belly backwards.
Step 4.        Rest your palms on the mat without bending your hands and try to push your chest backwards. Your hands should stay perpendicular to the floor. Relax and let your hands bear the weight of your body.
Step 5.        Don't stress buttock muscles while performing this posture. Exhale every time you exhale. Don't perform it forcefully. Keep shoulders broad and its blades low.
Caution:
Don't perform this exercise in case you have hernia.
How does this post make you feel?