14-year-old Shivanand Tiwari cracks IIT entrance exam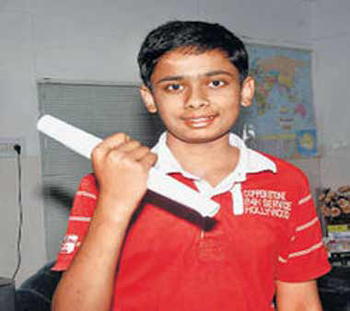 Once a religious preacher at the age of seven is now one of the brilliant students who have cracked IIT entrance examination at the age of just 14! Yes, you're reading it right! Shivanand Tiwary of Dharmpura village in Rohtak district is one of the youngest talents in the country to have cracked the esteemed IIT entrance examination.
About four years back, this talented young mind had no inkling of studying at IIT. But his father Kamlakant Tiwary, a farmer by profession, along with people of his village and neighbouring areas had no doubts about Shivanand's capability. The boy had amazed people by learning the Gita and other Hindu scriptures just at the age of seven and had even started travelling all around to preach on religion and scriptures which were well attended.
The young boy said, "Ever since my childhood days I have been a spiritual person and have always wanted to be of service to the Almighty. At the age of seven, I started preaching from a stage at Buxar. People loved it and they called me to various places to give discourses. I also enjoyed the same."
While his father Kamlakant was also keen that Shivanand should lead a life of sainthood, there was a change in his thought process when the director of a coaching institute based in Patna and New Delhi spotted him in 2011. Awestruck by the young lad's capability, he urged his father to allow him to take up studies.
"PMT Academy Director of Naraina IIT, U.P. Singh took me to Delhi. He, along with his academic director in Patna, Deepak Singh, developed a specialized curriculum for me and I completed my school studies successfully from Delhi and prepared simultaneously for IIT. English was one language that they made me to focus on so that I could read and understand books in the language", said Shivanand.
The brilliant boy, who has secured 2587th rank in the entrance examination, now hopes to pursue Physics at IIT and go on to advanced research in its various fields. But amidst all this, what happens to spirituality?
"Later on I will try to correlate spirituality and science. The question of giving up spirituality does not arise. I will take up research work in pure physics," added Shivanand with a smile.
How does this post make you feel?