1.8 Lakh Students Registered for BITSAT 2014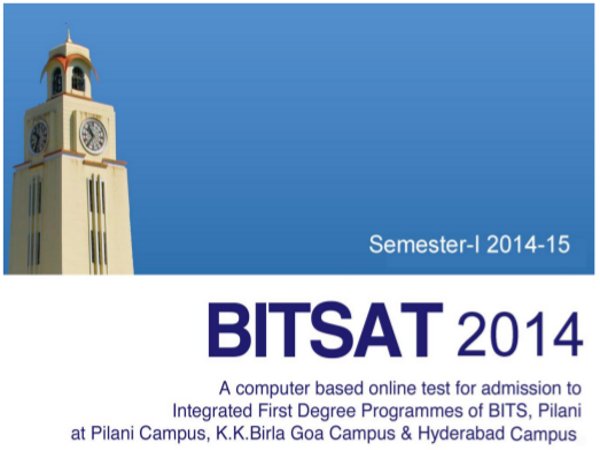 It was recently announced that BITSAT 2014, the online Birla Institute of Technology & Science Admission Test for the year 2014 will be conducted from 14th May to 1st of June 2014. BITSAT Pilani offers integrated first degree programs from all its three campuses – Goa, Hyderabad, Pilani and also from the NIIT University. This test is the gateway to any of these campuses.
This is the 10th year that the BITSAT is being conducted by the institute and more than 1.8 lakh students' from all over the country have registered to sit for the examination this year. It is quite an extraordinary development comparing with the fact that only 50,000 aspiring candidates enrolled for the examination when the examination was first conducted during the year 2005. Last year around 1.6 lakhs candidates from all over the country took the exam for the 2200 seats available with the three campuses of Birla Institute of Technology and Science. This year there is an increase of about 20,000 candidates who will be taking part in the admission test.
It was during the year 2005 that BISAT first introduced a screening process for its test that is currently conducted online all over the country. In order to ensure that they get the right students enrolled for the course, BISAT has designed the examination structure in such a way that it will not only test the analytical and logical reasoning power of the candidates, but also their knowledge in subjects like chemistry, maths and physics based upon higher secondary level educational curricula of India as well as of other foreign countries.
When the first exam was conducted during the year 2005, it was in the traditional pen and paper format. It was as per the instruction of the Indian Government that all deemed universities are required to follow an exam procedure proposed by the Central Board of Secondary Education (CBSE) declared in 2004 with the IITs being the only exception.
Bookings for the admission test date and slot will stay open until the 20th of March, 2014, and the slots for taking part in the exam are offered on a first come first serve basis. At the time of booking their seat a candidate is required to provide a number of personal details like application number, gender and date of birth etc. Candidates must keep in mind that once the date and time of the exam is booked it cannot be changed under any circumstances and the institute will start issuing hall tickets from 15th of April, 2014.
How does this post make you feel?